Baked Apricot Bar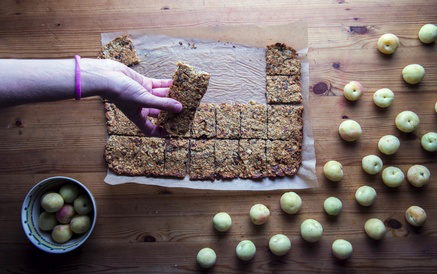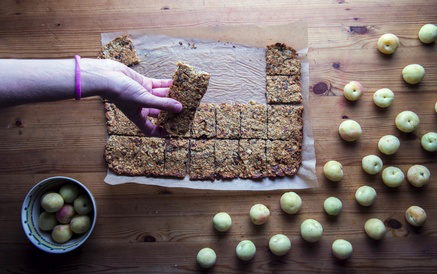 Prep time: 10 minutes

Cook time: 30 minutes
Ingredients
1 cup Rolled oats
1 cup Almond meal or Whole wheat flour
½ cup Unsweetened Shredded Coconut
½ cup Sunflower seeds
1 tsp Cinnamon
½ cup Dried apricots, chopped
5 ea Dates, chopped
1 ea Ripe banana
½ cup Orange juice
Instructions
1)

Pre-heat oven to 350 degrees.

2)

In a large bowl, combine dry ingredients (rolled oats through cinnamon). Mix in apricots and dates.

3)

In a blender, blend together the wet ingredients (banana and orange juice) until smooth.

4)

Pour wet ingredients into dry and mix until combined.

5)

Pour batter into an 8 x 8 in pan. (You could also bake these in a 9 x 13 pan for thinner bars–just shorten the cooking time.) Press down batter very firmly.

6)

Bake for 20-30 minutes, or until browned and cooked through.

7)

Serve warm or cold, with some sour cream, if you like.